Sound Masking in Healthcare Facilities
Improve patient privacy and comfort with noise masking systems from Cambridge Sound Management and M3 Technlogy Group — a solution that can additionally boost HCAHPS (VBP Program) scores and lead to greater Medicare funding.
These days many health care providers are working to create treatment environments that focus on the whole patient: mind, body, and spirit. Delivering high quality care and optimal patient healing are top priorities with today's leading hospitals. As a result, more and more facilities are impacting the quality of their patient care through a variety of environmental improvements. One such measure is the deployment of sound masking solutions, like Cambridge Sound Management's Qt Quiet Technology system, available from M3 Technology Group.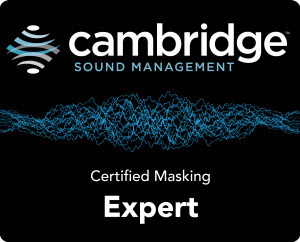 Sound masking presents an easily integrated option to solving several of the challenges faced in patient treatment settings. The Cambridge Sound Management  Qt 100, Qt 200, and Qt 600 systems are specifically suited to produce greater patient privacy, and comfort.
M3 Technology Group is a Cambridge Sound Management Certified Masking Expert.
Contact your M3 representative today to learn about ways to create a more comfortable, memorable patient experience, and in the process, access the opportunity to boost your hospital's HCAHPS scores and gain greater access to Medicare funding.
Sound Masking Solutions in Healthcare

Read more about how a Qt Quiet Technology sound masking system can help improve acoustics in Healthcare facilities and even improve a provider's Medicare funding.