Broadcast and Studio Systems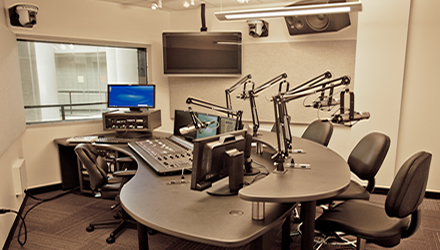 M3 designs and delivers broadcast and production studio facilities for organizations outside of traditional media.
With today's move towards content generation and with video editing equipment being more accessible than ever before, more and more groups are becoming broadcasters.
M3 provides state-of-the-art, versatile, and user-friendly systems for corporate communications groups as well as educational environments that include faculty, staff and students.
Whether it is your first in-house studio or you've been broadcasting for years, M3 can help you create the right studio to meet your broadcast and production needs.
Local Affiliates
Production Houses
Individual Studios
Media/Control Rooms
Educational Facilities
Media Ministries
Master Control Rooms
Video Editing Studios
Radio Production Facilities
Recording Studios