Video Conferencing Solutions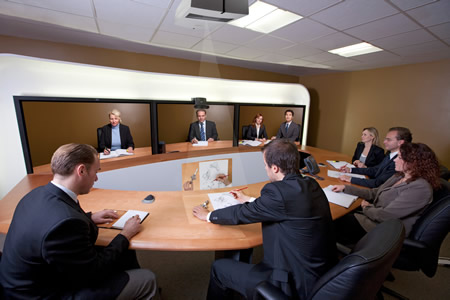 Video conferencing enables people to interact face-to-face with anyone, anywhere – improving teamwork, collaborative decision-making, and productivity with colleagues, customers and business partners.
Immersive systems can provide an across-the-table feel for all meeting participants, whether in a boardroom-style settings with a few participants at one location, individuals located remotely, to even in more spacious room configurations with up to 18 in-room participants.
Multipurpose systems bring the immersive experience to traditional general purpose meeting rooms, supporting meetings of up to six people in a standard conference room, and using existing furnishings.
Personal desktop systems are ideal for one-on-one conversations from an office or small conference room. These systems seat one or two participants, maintain the life-size, immersive telepresence experience while offering flexible deployment options to meet dynamic business needs.
Mobile systems for Android and Apple iOS free business professionals from the traditional boundaries of the conference room, allowing them to meet and collaborate face-to-face with anyone from anywhere.