Approaching Technology with M3
an Info Video Series offering you fresh AV industry news & insights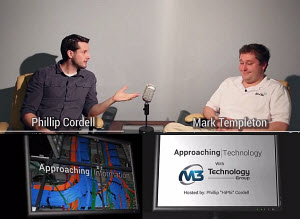 At M3, our goal is to provide our customers with trusted AV solutions and guidance, and part of that goal includes giving you background on the latest happenings in the AV industry. With that in mind, we invite you to check out our new YouTube video series "Approaching Technology with M3."
In this monthly series, Phillip Cordell, M3's service and engineering manager, will be speaking with some of the biggest names in the AV industry about what's going on in their world, and what it means for the industry as a whole. It is our hope that these short, informal videos will provide you with a quick and enjoyable way to learn a little bit about what's next in the industry.
In our first video, Phillip sat down with Randy Pagnan of RPVisuals to discuss his history in the industry, his involvement in the Digital Signage Federation (DSF), and how digital signage can be effectively deployed in industry settings.
Check out our newest video,  where Phillip's guest is Mark Templeton of SVSi. In the video, Phillip and Mark discuss the recent industry trend toward A/V-IT integration. Have a look!
We hope that you find this new series of videos enjoyable and informative! Make sure to subscribe to our YouTube channel, and keep checking back for more great videos on a regular basis.
M3 Tech Group
http://www.m3techgroup.com/wp-content/uploads/2017/08/logo-new.png
M3 Tech Group
2014-06-05 20:13:04
2014-06-05 20:13:04
Approaching Technology with M3: Mark Templeton Interview