Future Trends in Higher Education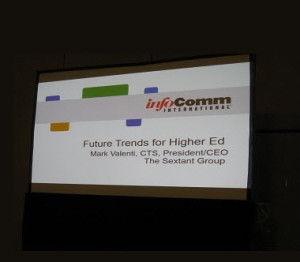 Read this TechDecisions article to find out about the future trends for higher education according to InfoComm 2014
This year's InfoComm conference was filled with innovative new products, informative sessions, and important announcements from the biggest names in the A/V industry. If you weren't able to attend, but still want to find out what InfoComm told us about the future of A/V in the higher education industry, read the TechDecisions article "Future Trends for Higher Education According to InfoComm 2014" by Jessica Kennedy.
In the article, Kennedy provides a recap of of the Technology Management in Higher Education presentation delivered by Mark Valenti, the president and CEO of Sextant Group. Valenti argued that higher education is changing rapidly, providing a variety of different technology options that A/V integrators have to be able to boil down into a single easy-to-use solution on behalf of their customers.
Valenti also highlighted a shift from traditional teaching methods to more collaborative, student-based methods, and discussed how this shift could end up making an A/V integrator's job more difficult.
If you're at all interested in the future of A/V technology in higher education, the article is really worth your time. Visit TechDecisions to read the full text today.
M3 Tech Group
http://www.m3techgroup.com/wp-content/uploads/2017/08/logo-new.png
M3 Tech Group
2014-07-03 15:40:37
2017-10-29 13:08:15
Future Trends in Higher Education