Has the Cloud Solved Our Video Conferencing Issues?
In M3's next blog series focused on video conferencing, we begin with a look at cloud-based meeting solutions that support presentations, collaboration, as well as face time. How do they size up?
Not so long ago, video conferencing was a difficult, expensive technology that required constant tinkering from IT in order to get it to work. Even with all the tinkering, these systems rarely worked well or consistently enough, because of bandwidth issues or equipment incompatibility, and many business people avoided using them if they could justify traveling instead. It says a lot about the inadequacies of the video conferencing experience to know that people would prefer to undergo the pain of modern-day air travel rather than use the equipment.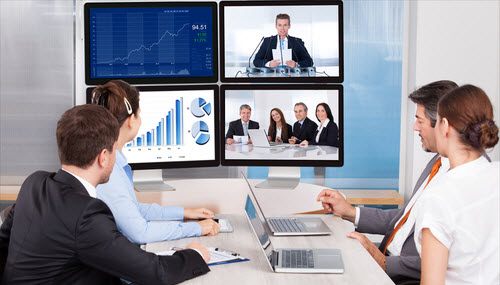 Video conferencing has come a long way in just a few short years. Today, consumers routinely use video conferencing apps such as Facetime and Skype to communicate with family and friends. Google Hangouts offers a simple click to video call option. There are dozens of other similar solutions running on Windows, iOS and Droid.
Business travelers routinely use these or similar tools to connect with office mates and family members while traveling. The tools are simple and easy to use but they are not professional grade apps. It's hard to imagine a top sales rep inviting a key prospect to meet in a Google Hangout to discuss a deal or to demonstrate a product. In addition, none of these products is robust enough for large groups or for business meetings with customers or new clients when first impressions and clear communications matter.
Online Meeting Solutions
On-demand web conferencing solutions such as GoToMeeting from Citrix, WebEx from Cisco, and Microsoft Lync, are making headway. These technologies usually run on a variety of devices and offer the same user experience regardless of it. They typically require an installed app, but the download is fast and the footprint is small. They work easily on your desktop, and with collaboration equipment from a variety of manufacturers, plus set up is simple enough that most users can manage without IT intervention.
Audio and video quality is decent enough with these products, and they easily manage large groups. It's a simple matter to share screens and to hand off presenting rights from attendee to attendee. Text messaging and individual microphones also make handling discussions amongst meeting participants manageable. In general, these solutions are light-years ahead of where we were even a few years ago, but some issues remain.
These software solutions are great in their own right, but they are closed systems. GoToMeeting users, for example, can only collaborate with other GoToMeeting users. The same holds true for Microsoft Lync, Cisco WebEx and the other entrants. So users end up having to download and manage multiple applications to communicate with other departments or regions in their own company, never mind the applications of choice in use at all their customers and suppliers. The cloud has solved some problems, but the technology still has a lot of growing up to do.
Looking at Video Conferencing Trends
In a move toward more device- and platform-independence, new offerings are emerging. Google recently introduced Chromebox, which at $999 is inexpensive enough for almost any conference room, and  supposed to be easy enough for any user to set up in less than ten minutes. It boasts the ability to meet with anyone, on any device; to join meetings of up to 15 participants; and to support seamless collaboration with simple one-click screen sharing. FuzeBox is a similar device gaining momentum.
With an increasingly video-centric landscape, there are lots of new players entering the video conferencing arena in recent years, each offering slightly different approach to delivery, but sharing a common goal to make video as pervasive as audio communication –but without all the expensive hardware once required. Stay tuned, as we'll be talking about some very interesting companies in the coming weeks.
M3 Tech Group
http://www.m3techgroup.com/wp-content/uploads/2017/08/logo-new.png
M3 Tech Group
2014-02-14 17:46:25
2014-02-14 17:46:25
Has the Cloud Solved Our Video Conferencing Issues?