Highlights from InfoComm 2014
Last week Las Vegas was the center of the AV world as InfoComm 2014 played host to innovative new solutions, informative speaker sessions, and great networking opportunities. If you weren't able to make it to the show this year, you certainly missed a lot, but we'll try to fill you in on a few of the highlights.
Crestron was on hand to demonstrate its new DigitalMedia solution, the only end-to-end 4K distribution on the market right now. The company also took home two awards from the show, one for Most Innovative Automation/Show Control Product and the other for Most Innovative Emerging Technologies!
NEC displayed examples of its award-winning digital signage solutions, including vide walls and installation projectors. Visit this slideshow from Commercial Integrator to see pictures from some of the most impressive booths at this year's show, including Crestron and NEC.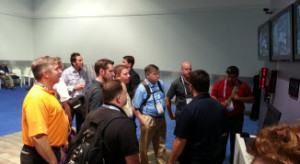 Team M3 at the AMX booth, InfoComm2014
AMX displayed an enhanced version of its Enzo solution, which can save integrators massive amounts of time with easy user-defined steps. Read this article from AV Network to find out why AMX Enzo and several of the other solutions on display at this year's show could be perfect for smaller universities.
Polycom unveiled a solution that includes a 360-degree video camera and built-in speakerphone.
Epson demonstrated its new 1900 series of projectors, which boast a variety of new features, including the ability to go up to 5000 lumens.
Biamp made a number of announcements at InfoComm, including updates to their Tesira and Vocia product lines.
In addition, the two Solution Summits, Digital Signage and Unified Communications and Collaboration, gave tech managers the opportunity to enhance their conference experience with lunch and learns, case studies, and panel discussions. Record attendance happened with both venues!
Finally, in what has become a tradition at InfoComm, the Drunk Unkles performed their annual charity concert to benefit the NSCA Education Foundation at the Hard Rock Hotel on Wednesday night. This year's show featured a special performance from M3's own Phillip Cordell (aka Hi-Phi), quite possibly the world's only AV rapper. The concert provided the perfect opportunity for AV professionals to relax and enjoy themselves in the middle of a week of hard work.
In the end, this year's InfoComm show was filled with lots of exciting announcements and product demonstrations. Of course, being there in person was the best way to benefit from everything that was offered there, but we hope you'll find the resources provided here to be useful as well, and perhaps see you in Orlando next year!
M3 Tech Group
http://www.m3techgroup.com/wp-content/uploads/2017/08/logo-new.png
M3 Tech Group
2014-06-25 14:21:41
2017-10-29 13:08:15
Highlights from InfoComm 2014