Preparing for InfoComm:
Solution Summits for Tech Managers offers Key UCC and Digital Signage Insight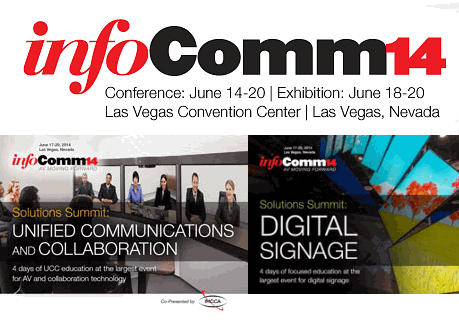 With InfoComm 2014 right around the corner, now is the right time to start preparing to make sure you get the best experience possible. With so many different educational and training options available, it's good to learn about some of these offerings in advance so you'll know how to allocate your time well once you get to Las Vegas.
The TechDecisions writeup "Inside InfoComm's Solutions Summits for Tech Managers" by Tom LeBlanc provides an interesting look at a series of 4-day training options, aimed at helping tech managers find the right AV technology for their organizations, as well as gain a better understand UCC and digital signage technologies.
The Solution Summits demonstrate InfoComm's commitment to extending learning opportunities beyond its traditional focus on AV system integrators, designers, and consultants. These new sessions will be aimed at CIOs, IT directors, and anyone else who's responsible for procuring technology for their organization. This year, InfoComm will offer two different tracks:
Solution Summit: Unified Communications and Collaboration
Solution Summit: Digital Signage
If you're a tech manager, these sessions could prove to be a valuable part of your InfoComm 2014 experience. Read the full article to learn more how this educational track can help you learn about these technologies, and their relevance to your business.
Are you attending InfoComm and want to know more about the show or digital signage and UCC technologies? Drop team M3 a line at News[at]m3Techgroup.com  and we'll see how we can help you get the most out of InfoComm2014.
M3 Tech Group
http://www.m3techgroup.com/wp-content/uploads/2017/08/logo-new.png
M3 Tech Group
2014-05-21 17:31:02
2017-10-29 13:08:15
InfoComm Offers Tech Managers UCC/Digital Signage Insight