Knoxville Schmoozapalooza Draws Crowd with M3 in the Mix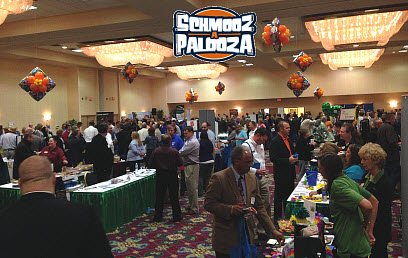 Yesterday was a busy afternoon when members of M3's Knoxville and Nashville teams attended

Schmoozapalooza

, a semiannual business networking event put on by the Knoxville Chamber of Commerce.
This clearly very popular event sold out of booth space–with over 70 local businesses exhibiting–and hosted 500+ registered attendees from the greater Knoxville TN area. Held at the Knoxville Marriott Hotel on March 25th, Schmoozapalooza's open floor plan and beach theme provided a casual, inviting setting for B2B and B2C service providers and professionals to make new connections.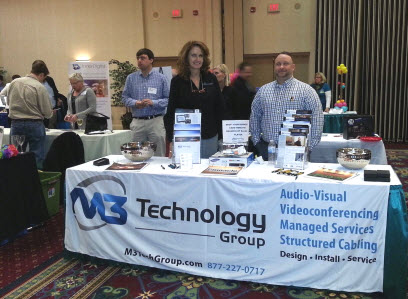 M3's Nashville-based Director of Business Development, Rebecca Betts, and Knoxville-based Account Manager, Collin McGinley greeted Schmoozapalooza attendees on March 25th.
For M3, attending the event proved to be time well spent. M3's Director of Business Development, Rebecca Betts commented, "Turnout was great –well attended by a diverse group of folks as well as vendors."  Knoxville-based Account Manager, Craig Patterson commented that he made some great new contacts, plus saw strong interest in M3's specialized technologies and services. M3's Knoxville Branch manager, David West added, "The chance to connect with so many local businesses in an afternoon, in one place, is great. Schmoozapalooza was a well-run event, and a worthwhile way to expand M3's visibility not only with our growing Knoxville corporate and educational client base, but with the overall Knoxville business community."
Judging by the total sell out of booth space and huge attendee list, the Knoxville Chamber seems to have hit a home run with their Spring 2014 Schmoozapalooza. If you happened to miss out, be sure to mark your calendar for September, when Schmoozapalooza returns for its fall installment!
M3 Tech Group
http://www.m3techgroup.com/wp-content/uploads/2017/08/logo-new.png
M3 Tech Group
2014-03-26 21:14:00
2014-03-26 21:14:00
Knoxville Schmoozapalooza Draws Crowd with M3 in the Mix