M3 Technology Group and partners Planar, Cisco and SVSi by Harman had a terrific amount of foot traffic during all three days of the 2016 Space & Missile Defense Symposium last week, held at the Von Braun Center in Huntsville AL.
As a Registered Small Business, Cisco US Federal Specialized Partner and InfoComm APEx Certified Provider, M3 showcased a variety of Networked AV, videoconferencing and integrated ITS solutions that drew enthusiastic booth visitors to see first-hand what these technologies offer the SMD community.
Here are a few show highlight photos: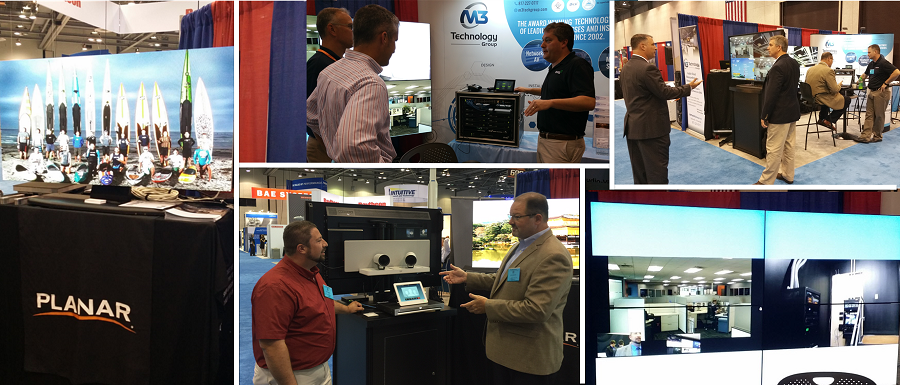 (left) Planar's 2×2 46" LCD Display was front and center, with a brilliantly clear presentation of everything from live videoconferencing sessions to Olympic highlights.
(Center, top) Mark Templeton demonstrates how SVSi by Harman delivers pristine, presentation quality audio and video distribution and switching over standard IP networks.
(Center, bottom) Cisco's SX80 codec and Precision 60 camera system enabled live videoconferencing demos throughout the show, with constant spotlighting on the various Planar displays, including Planar's 3×2 1.6mm pitch LED (Right, bottom) and 58" 4K Touch display (Right, top)
The SMD Symposium is the leading educational, professional development and networking event in the space and missile defense community and is widely attended by leaders and professionals from the United States and our allies around the world each year.  M3 was very pleased to attend this year's show with Planar, Cisco and SVSi by Harman, and to present a complementary array of security focused, superior display, videoconferencing and video distribution technologies.
For further information, please contact M3 Technology Group.
M3 Tech Group
http://www.m3techgroup.com/wp-content/uploads/2017/08/logo-new.png
M3 Tech Group
2016-08-23 15:47:55
2016-08-23 15:47:55
M3, Planar, Cisco and SVSi by Harman shine at 2016 SMD Symposium Exhibition