Retrofitting Technologies in Your Conferencing Space: Bridging the Old and the New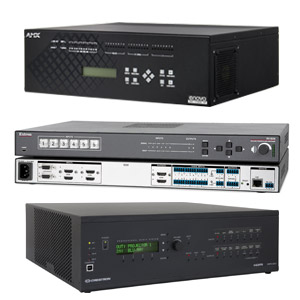 From top to bottom: AMX DVX-3156HD-SP,
Extron IN1606, Crestron DMPS-300c
In last week's blog post we talked about the challenges involved in retrofitting your existing conferencing environment with current, updated presentation technologies in a way that is both aesthetically pleasing and functional. In this installment we will address how the challenge of retrofitting these newer digital technologies into older systems can be simplified with effective signal processing solutions like those from Extron, Crestron and AMX.
A NEW APPROACH TO SIGNAL ROUTING
One specific challenge in blending older technology with newer types of equipment is signal compatibility. The cleanest solution is to deploy updated signal processing and distribution infrastructure components like those offered by Extron, Crestron and AMX. Here's an overview of some of their key products for this very application.
Extron's IN1606 and IN1608 provide a scaled HDMI output while the IN1608 also features a twisted pair output for digital receivers on longer cable runs. Both units accept a wide variety of video formats, including HDMI, HDTV, and RGB, as well as standard definition video. This backwards compatibility of the Extron IN1606 and IN1608 models allows for more versatility in integrating your old and new technologies without sacrificing quality or signal strength. It also features an advanced video scaling engine with 1080i deinterlacing, which will work with high resolution outputs. The audio is equally impressive, with six stereo inputs, two stereo outputs, and HDMI audio embedding.
Crestron DigitalMediaTM Presentation System 100, 200, and 300 models all have a built-in signal processor that can handle backward conversions from analog to digital, without a significant loss in signal quality. Crestron's video processor translates analog and digital signals to a common format that will work on most older systems, making it an ideal choice. The DMPS models also feature a control processor for controlling both source and display devices.
Finally, AMX's DVX-3156HD  All-in-One Presentation Switcher is another powerhouse of features that merge older technologies with new. Using AMX's proprietary DXLink distance transport, it features inputs that allow for up to four remote connections. The DVX-3156HD is an all-in-one controller and an analog to digital signal converter, with a twisted pair transmitter and amplifier. The audio signal processing is also excellent and you can integrate it into older systems without extra tools or devices.
BRIDGING THE PAST WITH THE FUTURE
As AV presentation technology continues to improve and focus on the new digital formats, there will be an even greater need to bring your older technologies current. You can either do this by throwing away your older equipment and buying all new digital gear (which is costly, to say the least), or find a way to bridge the gap from the past to the future via some of these excellent solutions that streamline your system without loss of quality.
Videoconferencing and collaboration technologies facilitate productive networking between the people who mean the most to your organization. So you need your equipment and video systems to be in top working order at all times, and you don't want outdated technology to hold you back. The solution is to bridge the gap.
Check out these signal processing products at your earliest convenience. Contact your M3 representative for help exploring the best solutions for updating your existing conferencing or presentation system, which may soon be the most important investment you make.
M3 Tech Group
http://www.m3techgroup.com/wp-content/uploads/2017/08/logo-new.png
M3 Tech Group
2014-10-29 21:05:54
2014-10-29 21:05:54
Retrofitting Technologies in Your Conferencing Space: Bridging the Old and the New