The Video Conferencing Solution Spectrum
Our next installment in this series on video conferencing solutions takes a general look a the types of systems available, and where they make sense.
As video conferencing becomes more crucial to conducting day-to-day business, companies are looking for flexible options that users can easily manage on their own without needing a lot of support from IT. On the other hand, audio and image quality, ease of use, and cost continue to be important factors contributing to successful deployment of conferencing solutions.
Immersive Systems
Immersive systems, such as Cisco TelePresence or Polycom RealPresence, provide the look and feel of an actual conference room. These systems present meeting participants in life-size high definition screens and with impressive sound quality. Immersive systems are the closest to a real world face-to-face experience, and they are a great choice for board-level or key customer meetings. They also work well for education and training, especially for skill-specific training such as surgical techniques or technical repairs where it is important to clearly see the actions performed as well as hear the instructor.
The trade-off is that immersive systems tend to be expensive and require technical setup and periodic maintenance. Immersive systems are often established in dedicated conference rooms, and they may not easily connect with the same degree of clarity with remote sites that don't have a similar setup.
General Purpose
Multipurpose video conferencing set ups like Cisco MX200 and MX300 or Polycom HDX allow organizations to use existing conference rooms without extensive reconfiguration. These systems are generally less expensive and less technically complex than immersive systems, but meeting participants don't have quite the same feeling of direct face-to-face collaboration. Nonetheless, multipurpose teleconferencing systems are valuable tools for collaboration with remote teams. They allow for simple screen and application sharing, so users can interact freely and naturally, and sound and video are both excellent.
Personal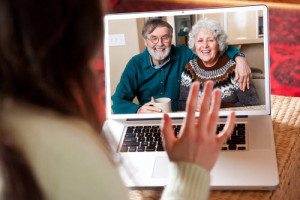 Personal videoconferencing systems have become increasingly popular as PCs have become more powerful and bandwidth reaches speeds that make it practical. Personal solutions range from purely user and home based solutions like FaceTime and Google Chat, to more robust options such as GoToMeeting that work well for informal or impromptu business meetings where participants are widely scattered.
Cisco Jabber is one entry in this category that may meet the needs of corporations and organizations for informal meetings between a reasonable number of employees or suppliers. Jabber requires users to download a small app that enforces network security, but it enables communication across a variety of devices. It uses the built in device video and audio equipment, so sound and image quality may be too uneven for critical meetings, but it is great for internal team meetings. Users can also utilize Jabber from mobile devices, making it an ideal solution for road warriors and home based workers. To improve audio and video quality, users can add external cameras and headsets to their devices — even inexpensive devices like USB HD cameras create a big improvement in sound and image quality.
Video conferencing solutions come in a range of prices and offer a variety of experiences that range from nearly replicating face-to-face meetings to quick and easy solutions that may provide variable quality results.
Network quality and speed also affect video conferencing, as we'll discuss in a future post.
M3 Tech Group
http://www.m3techgroup.com/wp-content/uploads/2017/08/logo-new.png
M3 Tech Group
2014-02-26 17:13:44
2014-02-26 17:13:44
The Video Conferencing Solution Spectrum