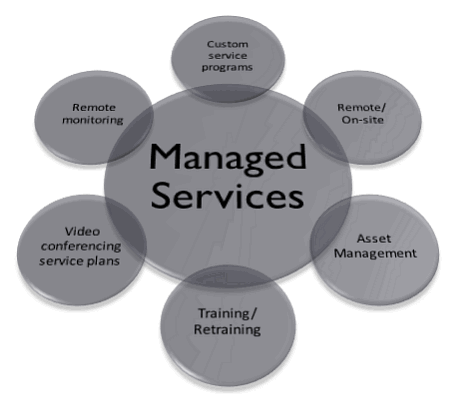 Today, AV and video system deployment is commonplace in virtually all professional settings — educational, corporate, healthcare, or beyond. Equipment performance and reliability are vital to work flow and productivity.
At M3 Technology Group we understand, which is why we offer a range of service programs to maintain smooth operation of your technology investment. M3's service specialists have years of experience with in-field troubleshooting and critical issue resolution. So when trouble strikes, they have the know-how to get you back online quickly, and confidently.
Whether you seek full- or part-time, remote or on-site support, or even proactive asset management to avoid unexpected down time, M3 has a service plan that's right for you. Let us show you how having M3 as your trusted service partner can bring you peace of mind and confidence in operating and maintaining your AV equipment and systems.
M3′s Managed Services Feature:
9-5 live help-desk, 24/7 technical support access
Field service and scheduled maintenance
On-site managed services
Cisco & Polycom videoconferencing service
Custom Service Level Agreements (M3 Basic and Premier plans)
Active system monitoring
Asset management (predicted failure/proactive maintenance)
Remote configuration and programming
System operation training/retraining
System documentation and training collateral