What's The Best Approach To Digital Signage Deployment?
Corporations embrace digital signage movement but need help creating robust solutions.
From the Fortune 500 to the local corner store, digital signage has become a common way for businesses to advertise their services. In fact, market research firm IHS Inc. found that corporations will spend more than $13.9 billion on digital signage in 2013, a 5.6% increase from 2012's numbers.
As more businesses look to digital signs, they need to decide if they want to take on the deployment and development work themselves, or hand it over to third party experts. The best path seems to be turning to an outsider vendor at the start of the process, and perhaps later bring certain elements in house as the company becomes more familiar with the technology.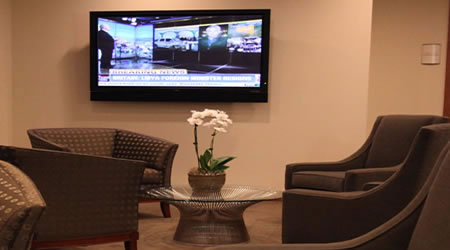 Digital signs, from suppliers like AMX, Mitsubishi Electronics, Planar, and Sharp, offer many familiar components: PC like displays and widely used programming languages. However, their goal (create an interactive exchange with the customer) and design are different from IT departments' wheelhouse – a fancy PowerPoint is simply not good enough.
Outsourcing digital signage deployment offers many benefits:
Delivery speeds up. Because of a greater familiarity with the technology, a third party integrator can typically assemble and install a solution more quickly than the customer can.
From a content development standpoint, technicians need to understand a bit about marketing and graphic design to attract viewers to the sign, and ergonomics, so that potential customers are not bogged down by data entry requirements if they are interested in the company's products or services. Most firms seem to need, and benefit from professional assistance when starting the design/content creation process.
Cost savings are a typical IT driver. Many businesses cannot afford to hire subject matter experts for digital signage. In addition, ancillary costs, like training and providing health care benefits, drive up corporate expenses. Removing fixed overhead costs and raising the predictability of variable costs are other potential outsourcing financial pluses.
Outsourcing also increases efficiency. The company focuses on its core business tasks, such as product development, and leaves aside any non-essentials.
When searching for a potential digital signage partner, look for a third party resource with an outstanding reputation, a track record of being highly adaptable, and a resume filled with successful digital signage projects. At the very least, turning to an outsourcer ensures a solid start, and often it leads to a long and fruitful relationship.
M3 Tech Group
http://www.m3techgroup.com/wp-content/uploads/2017/08/logo-new.png
M3 Tech Group
2013-12-18 20:54:13
2013-12-18 20:54:13
What's The Best Approach To Digital Signage Deployment?