Healthcare AV Systems for Practitioners and Patients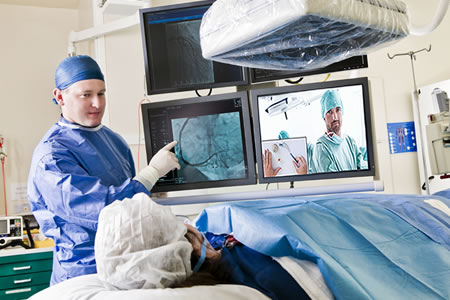 Collaborative Video and Audio Solutions for Healthcare: Improving Patient Care, Cutting Costs and Connecting for Wellness.
Healthcare institutions have long been early adopters of the latest technology. Doctors communicate between multiple sites with videoconferencing, and view charts and x-rays on high-resolution displays. Hospitals offer patients versatile in-room entertainment and information systems.
AT M3, our experience in dealing with some of the world's leading medical institutions gives us key insight when planning and implementing the various audio visual technologies that appear in medical institutions today, as well as when providing solutions that enhance patient comfort and privacy.
Key Benefits:
Improve patient care and extend access
Enable collaboration across healthcare teams for better outcomes
Educate and increase productivity of healthcare providers
Improve hospital work flow and operational efficiencies
We Specialize In
Operating Rooms
Patient Rooms
Monitoring Hubs
Meeting Areas
Common Areas
Related Technologies
Data and Documentation Storage
Event Recording and Distribution