The Collaboration Conundrum
As companies work to support BYOD and the mobile movement they find holes in their IT infrastructure.
Collaboration has become a common theme in corporate and educational environments. Businesses and schools want to offer a wide and ever-expanding array of applications that let employees, students, and customers share information. But sometimes they find missing pieces in their IT infrastructure. With some help, they can connect all of the components, streamline business productivity, and increase collaboration.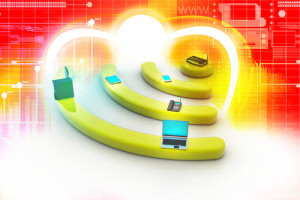 Ideally, employees walk into a room, boot up their systems, and wirelessly present and exchange a variety of content — Microsoft PowerPoint, Excel, and Word documents; PDFs; photos; and videos. To deliver that functionality, businesses need to offer the ability to connect a variety of devices, from content generating systems (servers, PCs, and increasingly, mobile devices), to network connections (wired and wireless) and presentation systems (displays).
Yet while many schools and businesses already have some of the needed elements, these sorts of information exchanges are often stymied by a missing connection or two. Fact is that increasingly workers are no longer tethered to their desks. Students are configured in small group modular settings. Both need "plug and play" ability for a variety of communication devices.
One other area causing angst recently is in supporting mobile devices, such as Apple's iPad, and Internet network delivery systems, like Apple TV. For instance, conduits from display systems to mobile devices are in a nascent stage of development. But a few solutions are emerging.
Barco Inc.'s ClickShare lets you use their mobile devices to share content on large meeting room screens. They start their presentations by simply pushing a button, and collaboration content comes from a USB-device connected to a laptop PC or a MAC, or an iPhone, iPad, or Android app. ClickShare automatically sets the content's display to the most optimal resolution based upon the source, and display device.
In addition, Crestron Electronic's AirMedia helps groups of people collaborate. The system connects up to 32 participants simultaneously, and provides each with chat functionality. If more face-to-face time is needed, the system's Quad View features enable participants to watch live streaming of source materials (from up to four presenters).
Pulling all of the difference pieces together needed to enable collaboration systems can be challenging. But as the demand for supporting BYOD and connectivity increases, new approaches to deployment are emerging, which will help companies and schools to participate, and in turn, realize significant productivity and teamwork benefits.
M3 Tech Group
http://www.m3techgroup.com/wp-content/uploads/2017/08/logo-new.png
M3 Tech Group
2014-01-14 18:44:04
2017-12-20 15:28:08
The Collaboration Conundrum