Phablets, Why Aren't They Catching On?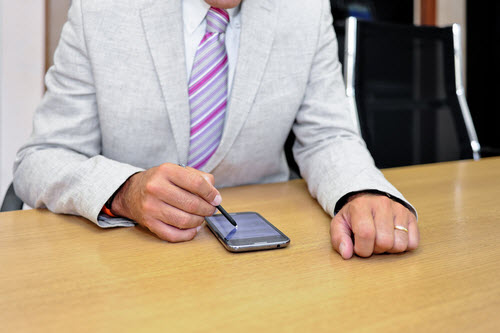 Phablets are taking off in other parts of the world yet not in the U.S. According to an IHS report, 25.6 million of the devices were sold worldwide in 2012, with a large percentage in Asia. According to their analysts, expected global sales figures will approach 60.14 million in 2013, and balloon to 146 million in 2016. Still here at home, the devices which can best be described as a hybrid smartphone and tablet, accounted for only a small fraction of smartphone sales.
The main stumbling block to their adoption domestically seems to be  that they go against American's preference for one-hand operation. With screen sizes ranging from 5 – 6.9 inches, it's a rare hand that can hold a phablet while thumb-scrolling or texting. Those who do appreciate their size, however, are mobile gamers and fans of multi-media viewers, as well as big-fingered texters who find the smartphone's touch keyboards impossible to use.
On the other hand, today's phablets are no lumbering giants. The Android Samsung Galaxy Note 3  has a 5.7 inch screen, with a resolution of 1920 x 1080, and a 2.3 GHz Quad-core processor. Similarly, the 6-inch Nokia 1520, with built-in Microsoft Office suite and 2.2 GHz Qualcomm Snapdragon Quad-core processor, gives full HD resolution. Considering these aspects of phablets, one can see how they might serve both the education and corporate sectors.
Student of today cannot get through a day's work without a tablet or mobile device of some sort. Digital textbooks with video, audio, 3D graphics, and interactive text have replaced paper books. And with a  treasure trove of over 20,000 research applications at their fingertips, ranging from dictionaries to advanced engineering specs, daily trips to the library are a thing of the past. A phablet could stand up to these scholarly demands while satisfying students' 24/7 texting habits with no need to switch devices.
Likewise, phablets could meet the challenges of corporations who are considering a BYOD policy. These devices can increase employee productivity by giving them anytime/anywhere access to company resources while driving worker's satisfaction. Should any questions or issues arise, the employee need not put down the phablet to seek resolution with a phone call or a text question.
Most mobile device management (MDM) solutions in use today offer support of an unprecedented choice of devices, including phablets. Selection of an appropriate program will allow the employer to set up the desired degree of security and control while managing intellectual assets, and distributing apps, content, and profiles across the company's mobile network.
So perhaps, Samsung and Nokia should consider marketing phablets to education and corporations. And maybe they should hurry up ! There's a rumor going round that a new player may be entering the field.
According to Design & Trend, Apple's upcoming iPhone6 will not only deliver a 5-inch 1920 X1080 resolution screen but will be designed with thin sides to accommodate one-hand use.  So, gentleman, start your engines!
M3 Tech Group
http://www.m3techgroup.com/wp-content/uploads/2017/08/logo-new.png
M3 Tech Group
2014-02-11 13:55:59
2014-02-11 13:55:59
Phablets, Why Aren't They Catching On?