Retrofitting Tech: Merging Your Conferencing Environment with New Presentation Technologies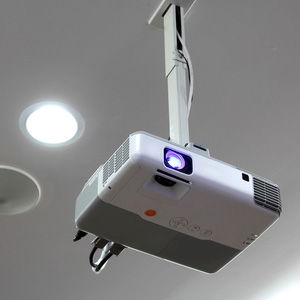 Technologies are changing so rapidly that we are all constantly trying to catch up. And yet, there is an inherent sense that we must hang onto that part of the past that worked, without giving it all up in favor of what is new. Retrofitting presentation technology is an example of this conundrum. It is a challenge for a presentation facility to accommodate the need to utilize state-of-the-art audiovisual equipment in a space that has a more historical look and feel.
There are several ways facility managers might choose to deal with this issue. They may try to create a design around the new technology that enhances the space, but also reminds one of the past, such as with highly-polished veneer housing or accents. Others may try to hide the new technology to preserve the look of the room the way it was intended. But this can run into hefty construction and decorating fees.
THE SOLUTION
The best idea is to take the "old with the new," to borrow from an old cliché. Successful modern presentation facilities seem to have the following components in common:
The presentation is clearly visible from all angles of the room.
Audio is of top-quality and easily understood.
The facility and equipment allow for interaction of participants with the presenter, as well as each other.
Activities within the conference room are easily viewed, even if the person is not present at the location.
HOW TO ACHIEVE THIS
In order to achieve these characteristics of your conference space, try following these simple design criteria:
Visual displays and projectors must be appropriately sized and integrated.
Several lighting modes must be available to allow for a variety of presentation scenarios.
Avoid external lighting sources.
Control the room acoustics from the standpoint of internal reverberation as well as ambient noise.
Audio speakers, mics, and video cameras should be mounted on room surfaces so that their performance is not impeded.
Power, LAN, and low-voltage wiring must integrate the system and streamline the communications process so that there are no operational mishaps.
MANIPULATION OF THE ENVIRONMENT: BE A TECHNO-POLTERGEIST
Some of the tasks necessary to accomplish this include manipulation of the environment and room, creating wiring pathways, mounting equipment, and making room for larger presentation equipment to achieve the visual and audio performance criteria. Using wireless technology may help create the system you want, but with wireless technology comes new challenges. The use of wireless sometimes creates sound or video quality issues and you may lose some of the professional visual impact you are trying to achieve.
Some decide to bring in portable power and wiring options, but the costs of the setup and breakdown time are high, not to mention time-consuming.
In essence, if you are looking to integrate your new technologies within a traditional space, you need to find system components that will fit into your current surroundings and meet your performance objectives. In a nutshell, this means a degree of custom design will come into play when updating your audio-visual conference system/presentation space.
CUSTOM DESIGN IS THE ANSWER
Depending upon your resources the best approach may be to explore equipment options and facility considerations with a knowledgeable AV design/integration specialist. Establishing parameters before you embark on a design upgrade is a good idea, as this will clearly define what you want, and expect to accomplish with your system update. So while you may be limited by an existing physical space, you can learn how to make the best use of your traditional fixtures, while contemplating new technologies without compromising time and money toward your goal.
In the next installment of the M3 Technology Group blog we'll be digging into the merits of retrofitting digital devices into existing systems, with a discussion around solutions from Extron, Crestron, and AMX.
M3 Tech Group
http://www.m3techgroup.com/wp-content/uploads/2017/08/logo-new.png
M3 Tech Group
2014-10-20 19:03:38
2014-10-20 19:03:38
Retrofitting Tech: Merging Your Conferencing Environment with New Presentation Technologies